We are pleased to introduce our 2008 import - FOLLOW ATHOS.  Athos was bred and is co-owned by Eva and Leif Engall of Sweden, who brought him over to us in September when they came to visit and attend the Finger Lakes Specialty at Wine County.  He is here visiting for a couple of years but will go home to Eva and Leif after completing his championship and having a few litters.

He is off to a great start - by the end of 2008 in only a couple of weekends, he has 8 points and both majors.   We anticipate he will finish in the Spring.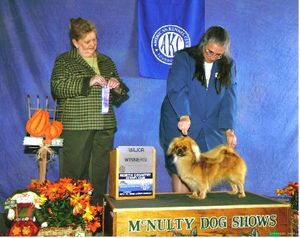 FLASH:  Athos finished his American Championship on June 14th with his fourth major win.  Now he is officially known as American, Danish and Latvian Ch. Follow Athos. 
We said goodbye to Athos at the 2010 National Specialty.  Eva and Leif came over from Sweden and he went back with them per our agreement.  We miss his silly antics and pretty face.  Thanks to both Eva and Leif for sharing him with us.